Bench-Scale Processor
The BSP-1200 ultrasonic liquid processor is designed for procedure optimization and bench-scale production. It is suitable for working with liquid volumes above 500 mL, with no upper limit.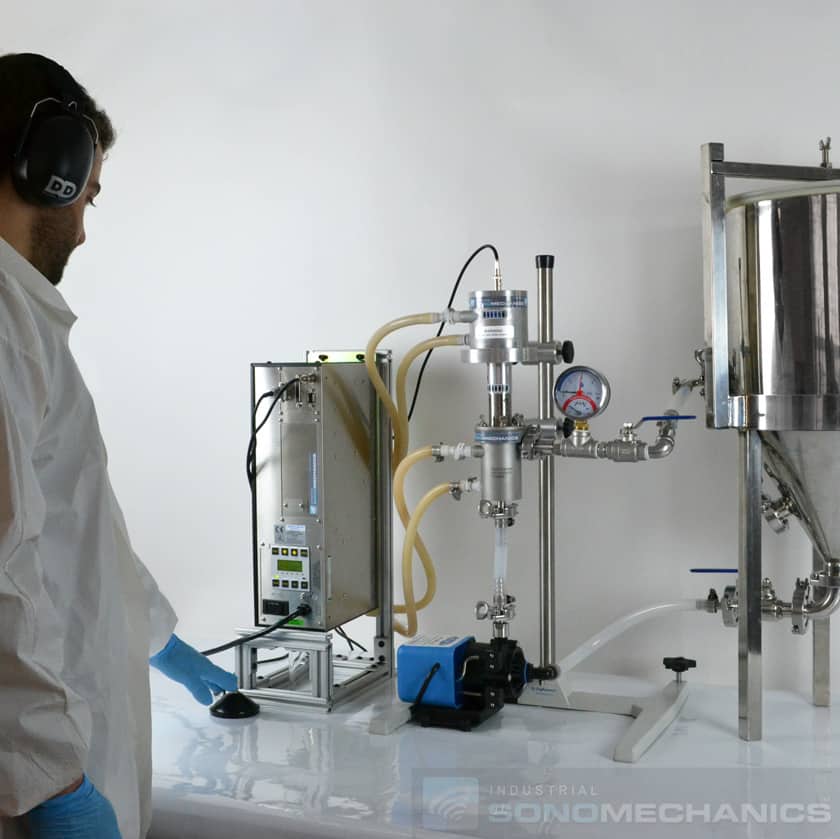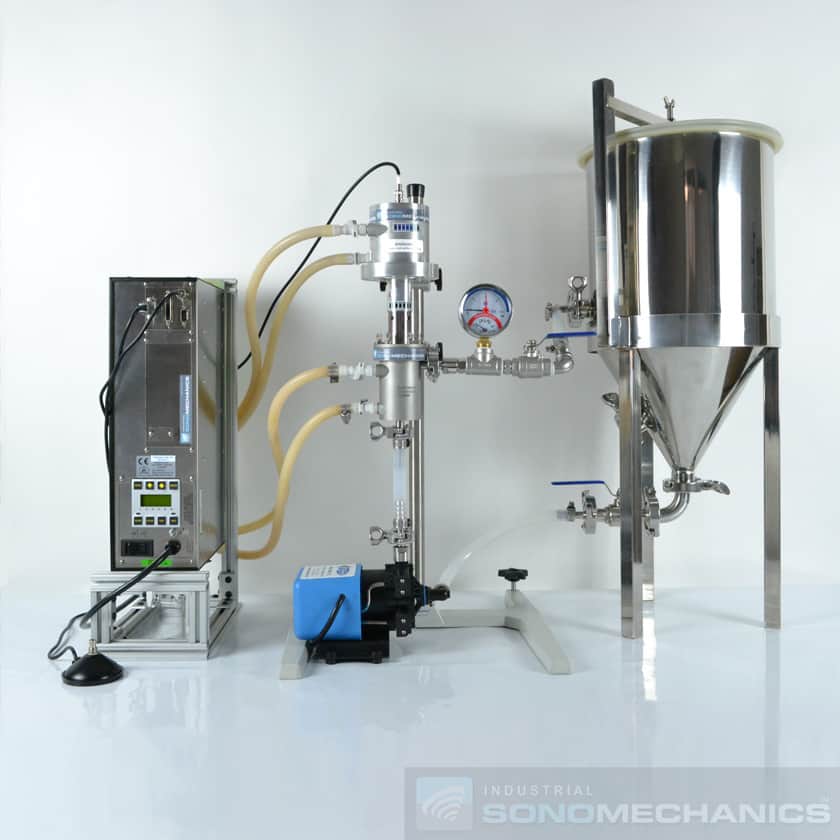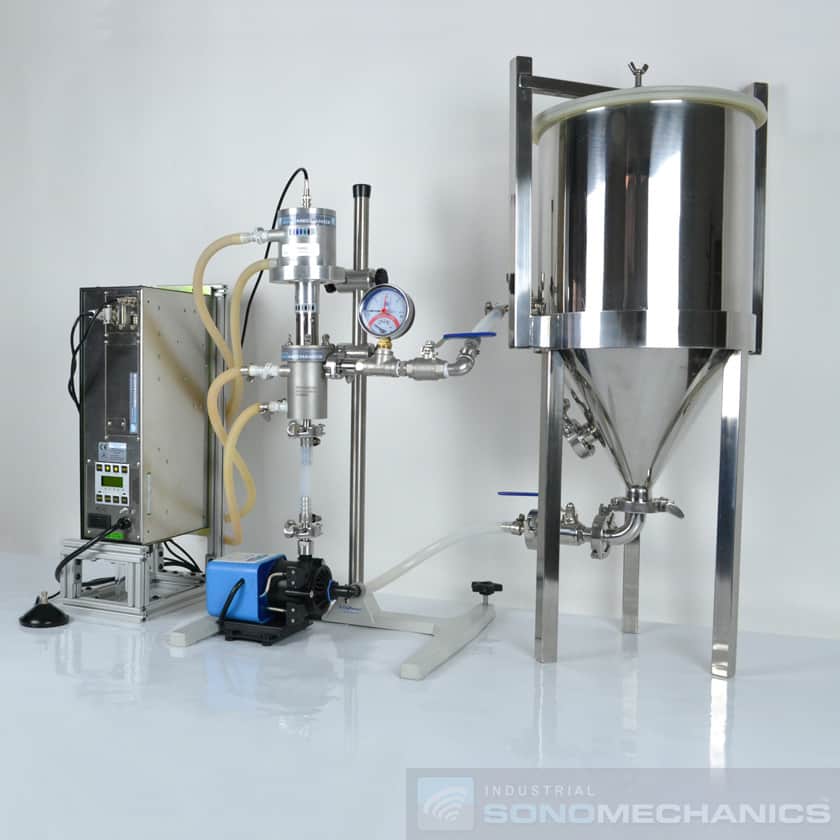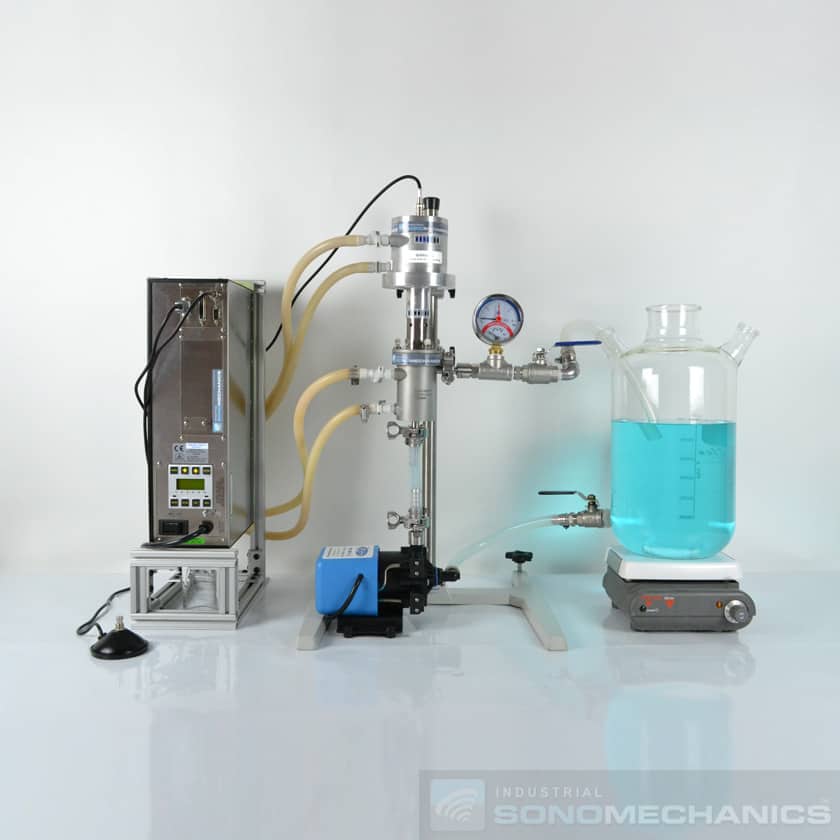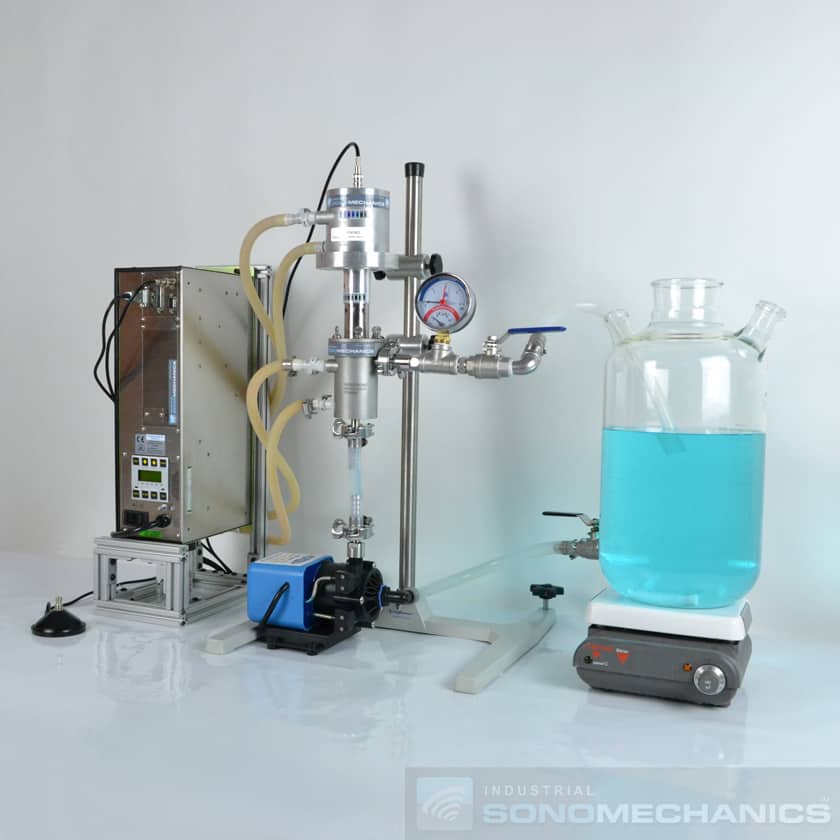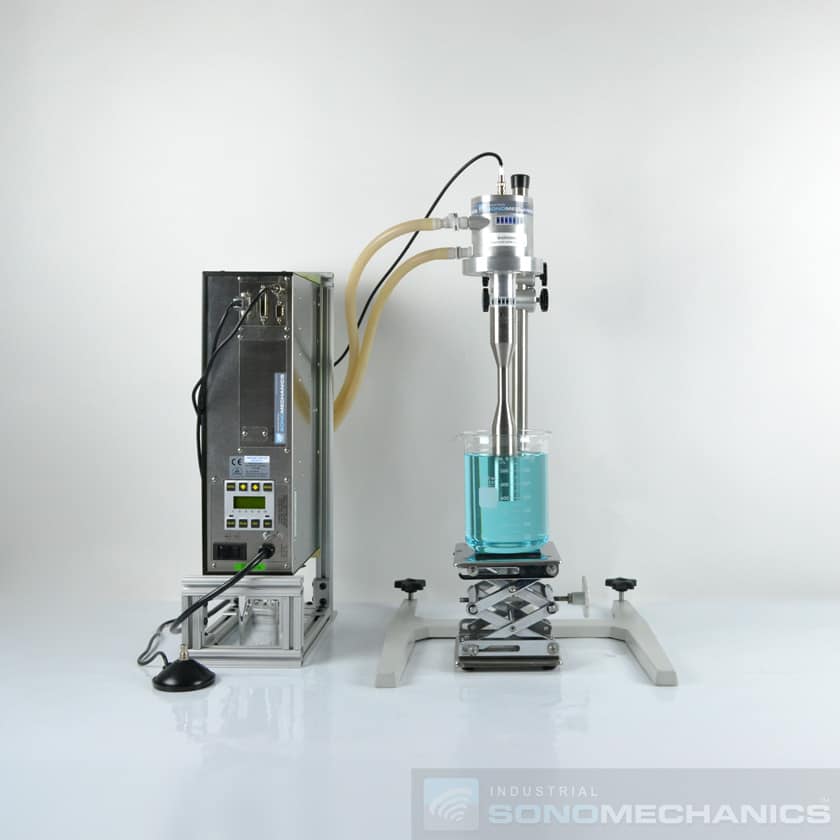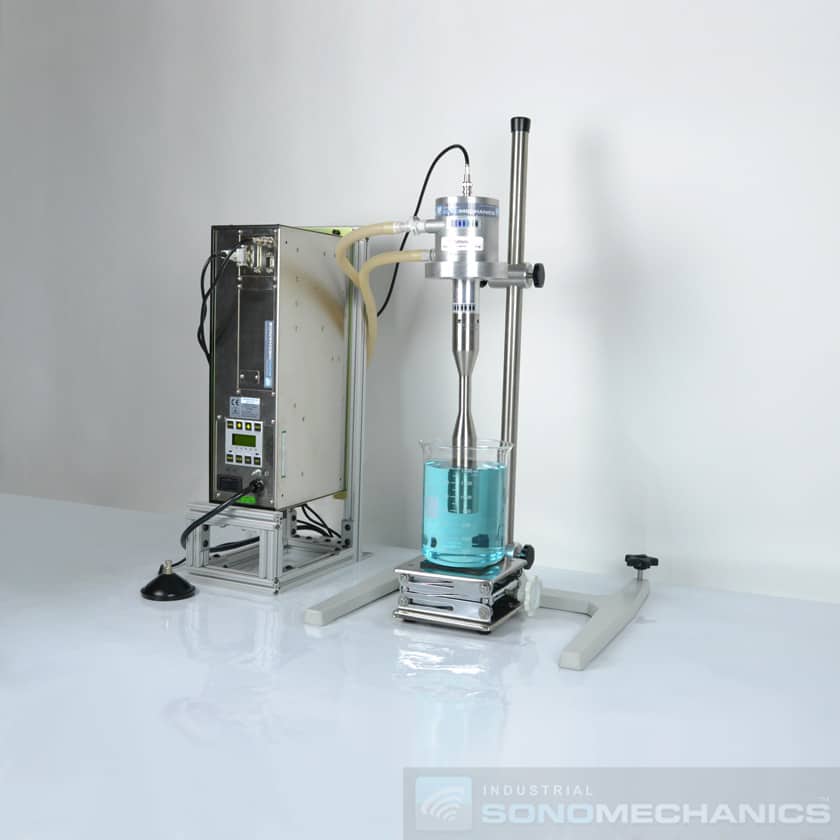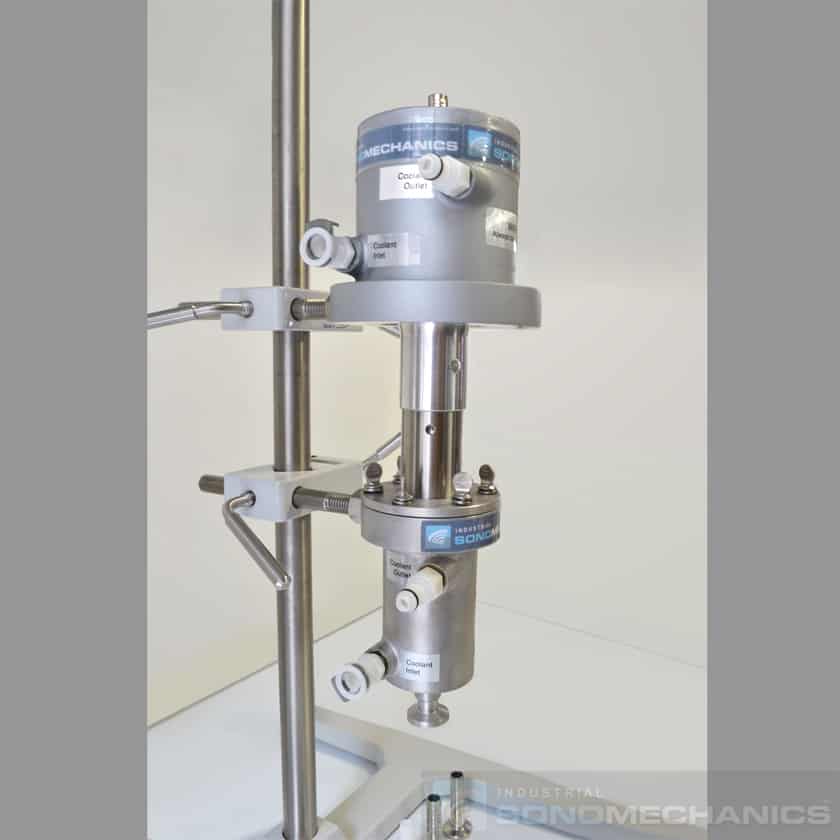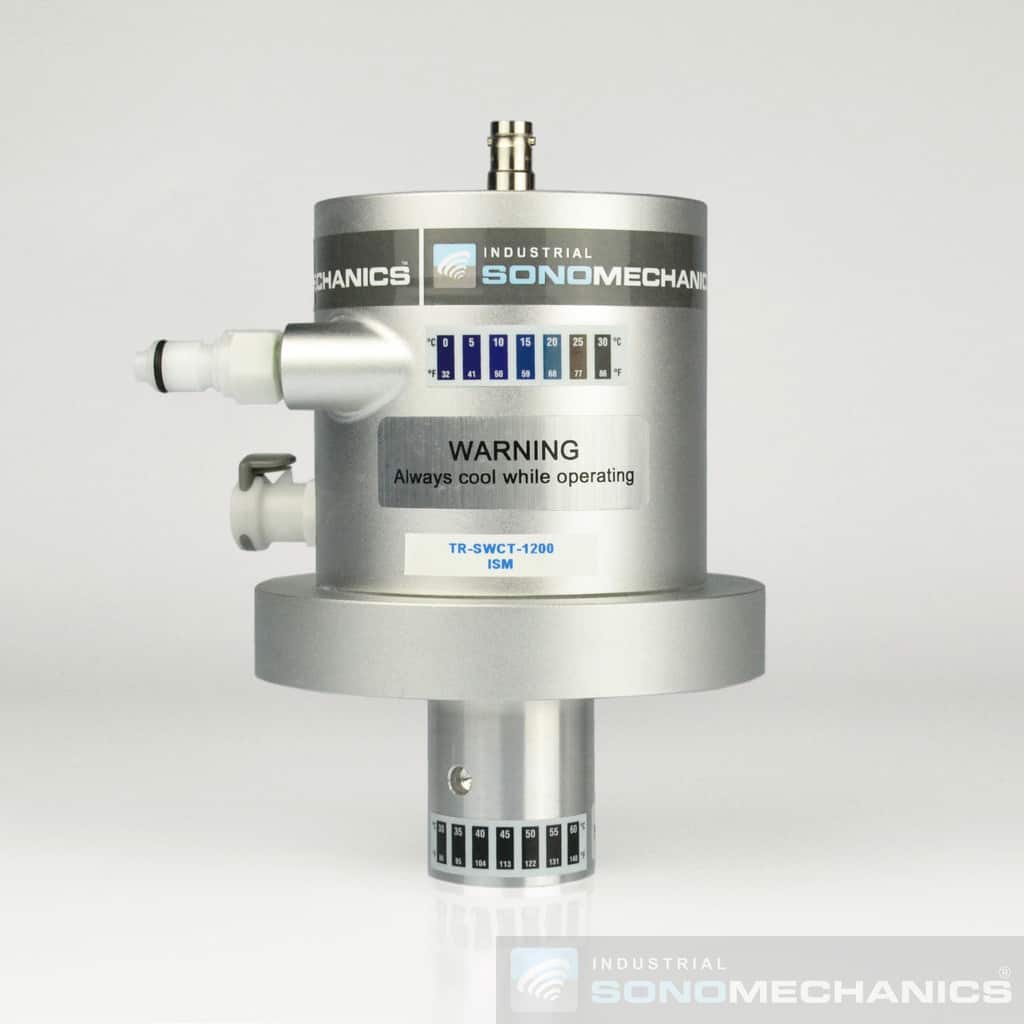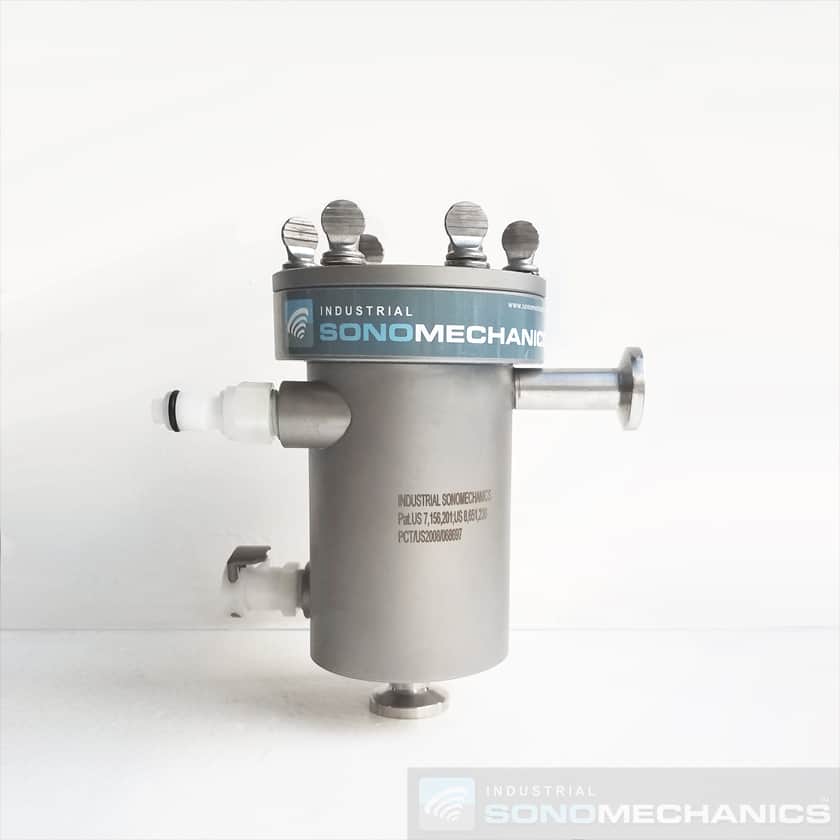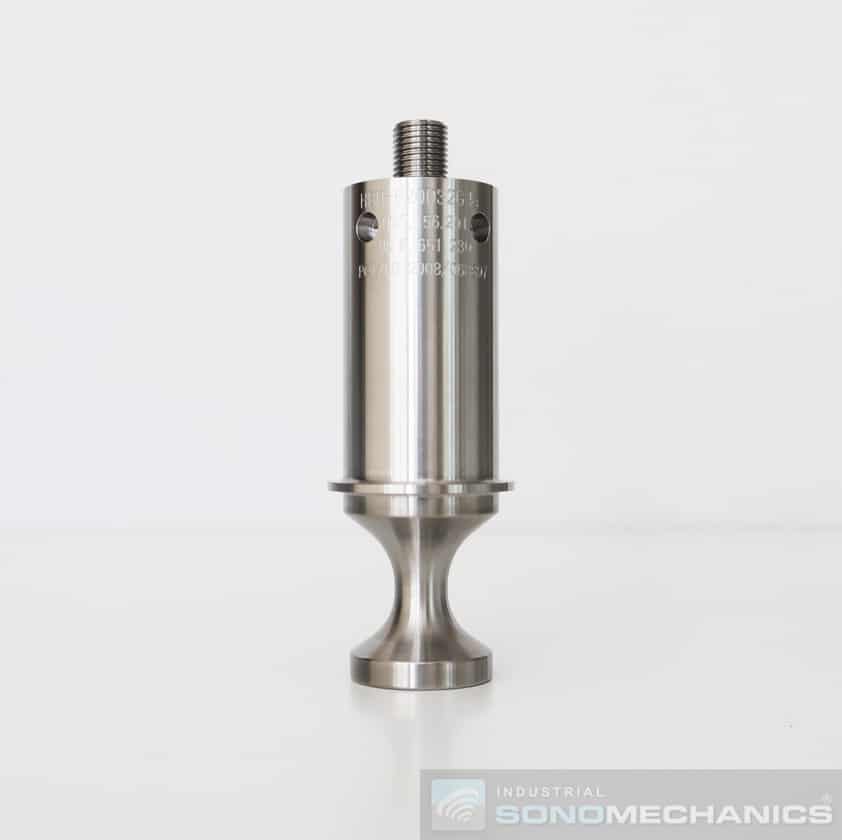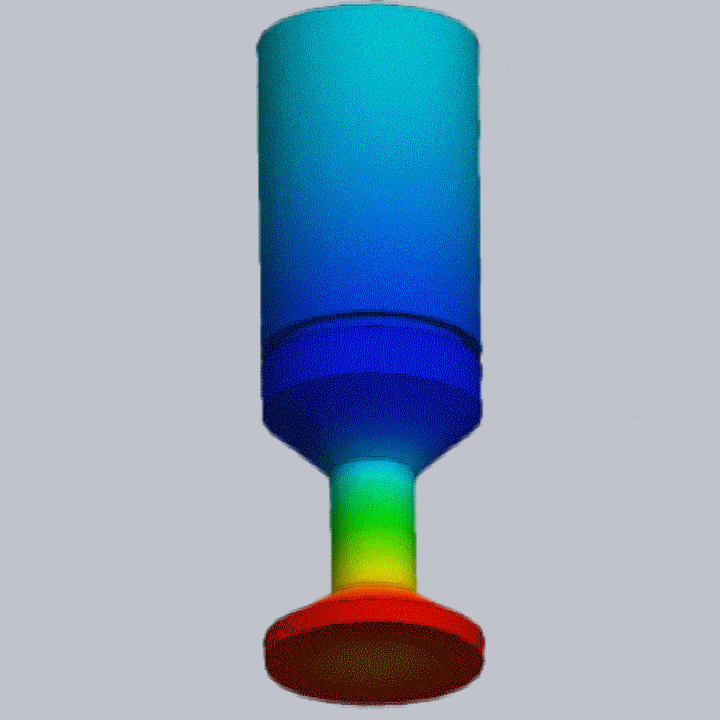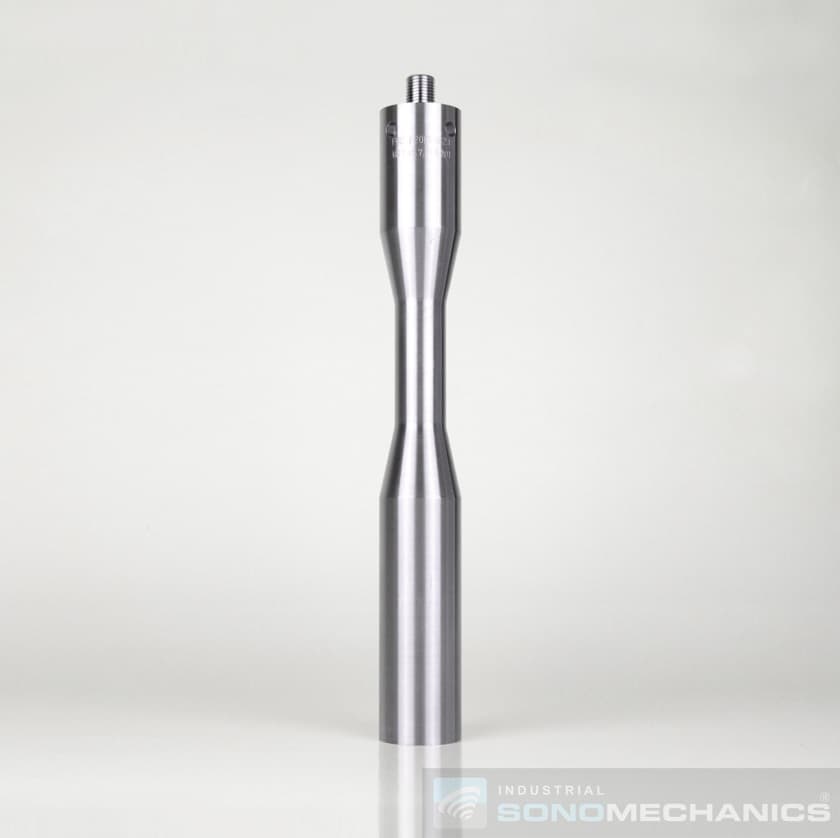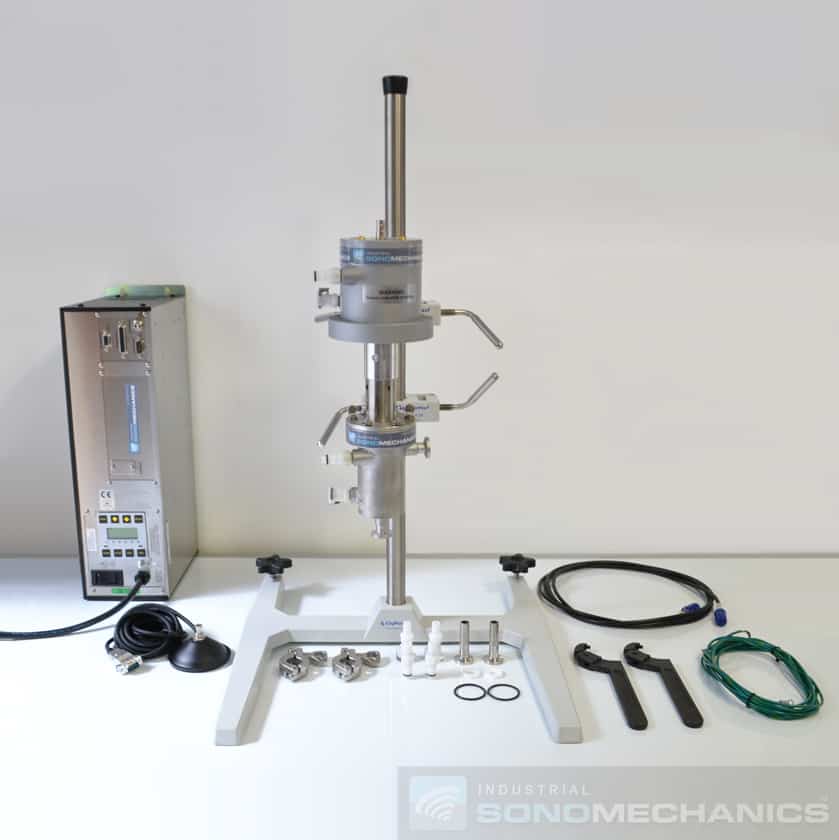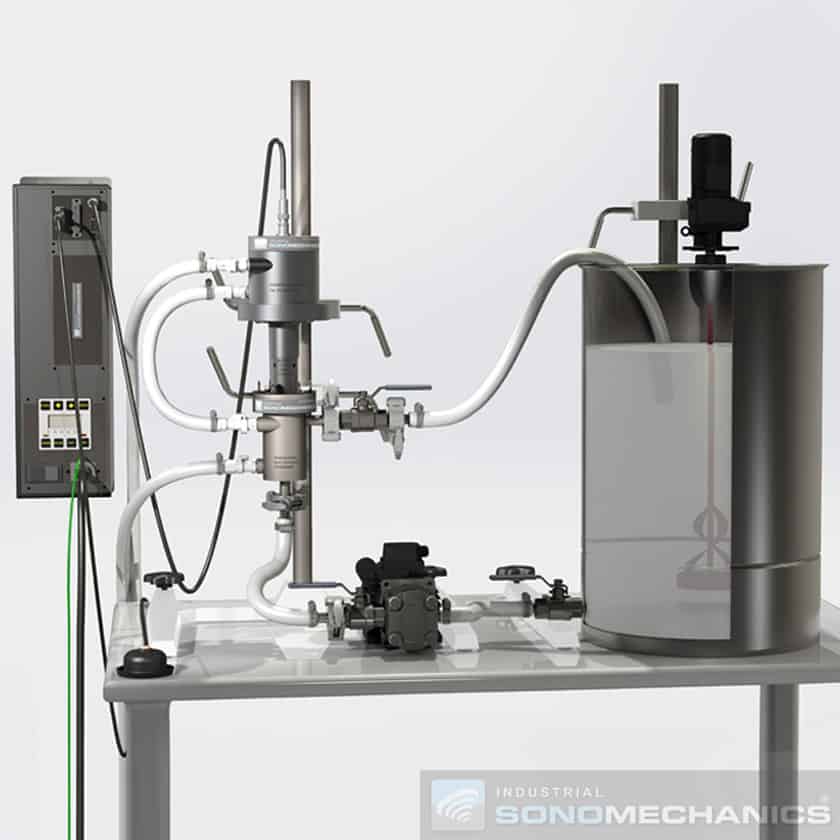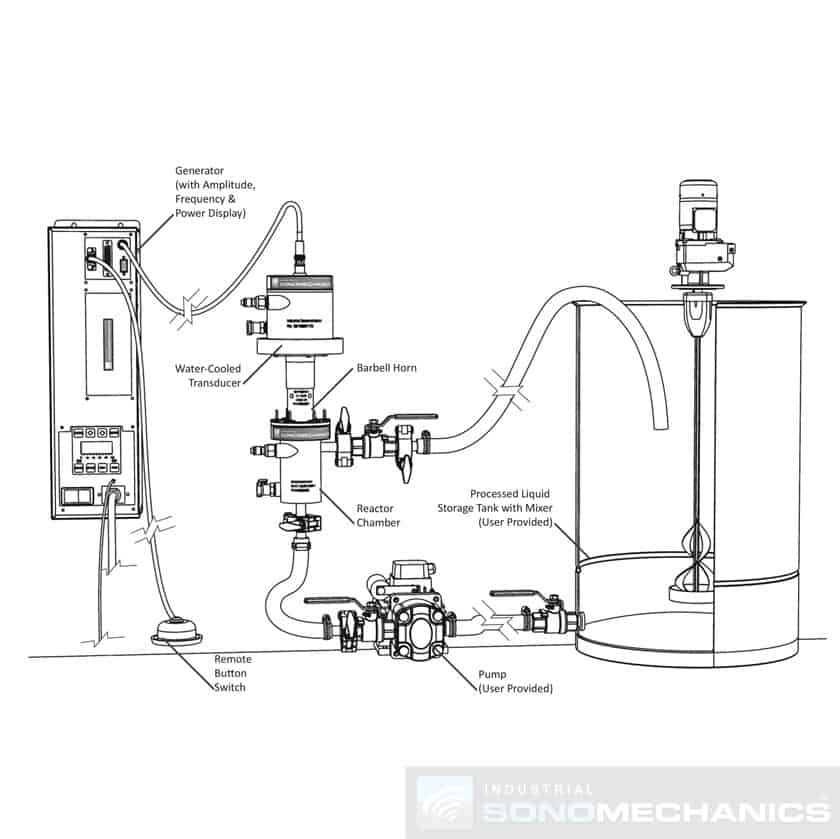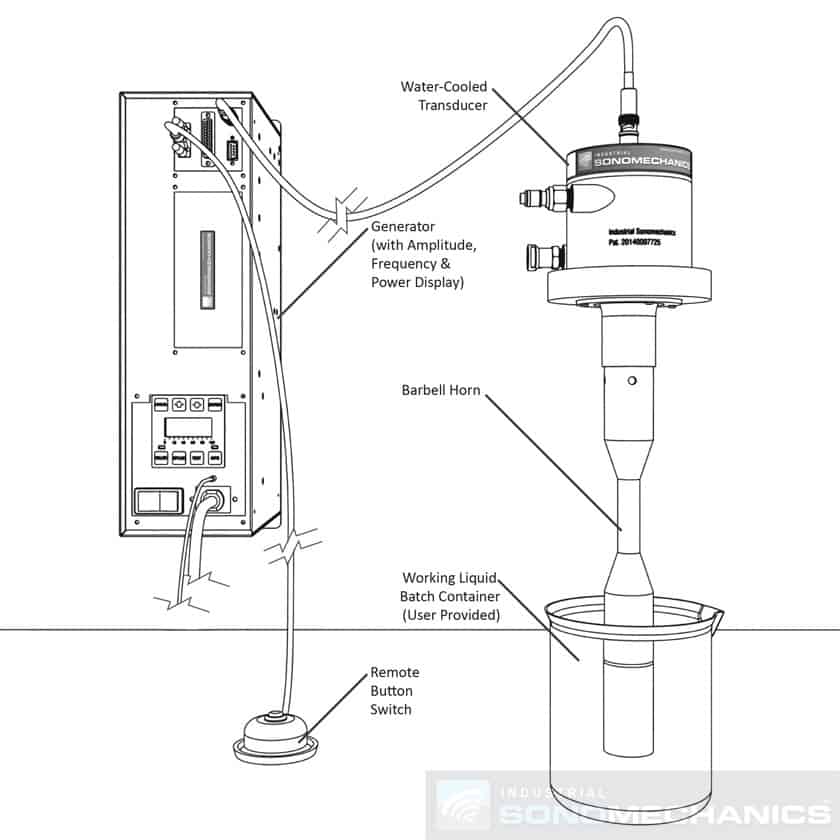 The BSP-1200 ultrasonic liquid processor is most commonly supplied with a 1200 W ultrasonic generator, water-cooled transducer, half-wave Barbell Horn®, and flow-through reactor chamber (flow cell). Optional items include a full-wave Barbell Horn® and support stand.
The BSP-1200 processor can be used in batch and flow-through configurations (see schematics on the left). Details are available under the SPECIFICATIONS tab. 
The BSP-1200 processor utilizes patented Barbell Horn® Ultrasonic Technology (

BHUT

), which makes it possible to generate extremely high ultrasonic amplitudes at any scale of operation. By upgrading to our larger BHUT-based unit, the ISP-3000, any process optimized with the BSP-1200 can be directly scaled-up to an industrial production environment, while maintaining the same processing conditions and reproducible results.
MAIN COMPONENTS
Ultrasonic generator (1200 W)

Input voltage:

100 Vac – 120 Vac

@ 50/60 Hz

220 Vac – 240 Vac

@ 50/60 Hz

Output characteristics: 3000 V rms (max.), 20 (+/- 1) kHz, 1200 W (max.)
Additional features: continuous resonant frequency lock, automatic power adjustment, fine amplitude adjustment and lock (20 - 100%), monitoring of output power and frequency, optional external control.

Water-cooled piezoelectric transducer (SWCT-1200)

Output Characteristics: amplitude — 24 microns (max.), frequency — 20 (+/- 1) kHz, power — 1200 W (max.)

Half-wave Barbell Horn® (HBH, 32 mm tip diameter)

Output characteristics: amplitude — 93 microns (max.), frequency — 20 (+/- 1) kHz, power — 1200 W (max.)

Flow-through reactor chamber (flow cell)

Features: 1/2" tri-clamp inlet and outlet, cooling jacket with valved quick-disconnects.
OPTIONAL ACCESSORIES
Full-wave Barbell Horn® (FBH, 35 mm tip diameter, amplitude — 92 microns (max.))
Support stand with clamp holders
Noise reduction ear muffs
ADDITIONAL INFORMATION
Materials of wetted parts:

Reactor chamber — 304 Stainless Steel. Food compatible.
Horns (FBH, HBH) — Grade 5 Titanium (Ti6Al4V). Food compatible.
Gaskets — Buna-N or Teflon. Food compatible.
O-rings — Buna-N. Food compatible.

Noise level:

103 - 106 dBa at 2' away. Noise reducing earmuffs or sound enclosure required.

Capacity

500 ml - 2 L — with FBH (batch mode)
1 L - unlimited — with HBH + reactor chamber (flow-through mode)

Productivity rates

Productivity rates are highly dependent on the nature of each process and range from about 1 L/h for challenging tasks (e.g., top-down nanocrystallization of active pharmaceutical compounds) to over 50 L/h for fast processes (e.g., degassing, deagglomeration).
5 times faster processing than with the LSP-600
Have Questions?
Consult with an application specialist
or request a quotation.
Contact Us